KCRep Gala 2023
Save the Date
Please save the date to join event chairs Dr. Benjamin Stone and Dr. Jessica Stone on March 31, 2023.
For information about sponsorship please email gala@kcrep.org or contact Director of Development MaryLee Guthrie at guthrieml@kcrep.org or 816-235-6107.
2023 Gala Chairs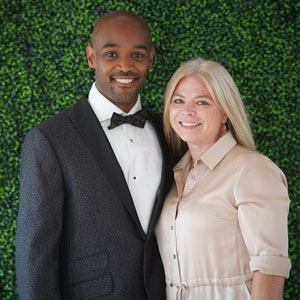 Dr. Benjamin Stone and Dr. Jessica Stone
Auction
Scott Jones with Raising Paddles
2022 Gala
Our KCRep Gala 2022 created so many memories we will never forget: The exciting live auction, led by Scott Jones with Raising Paddles, where we saw an entire table decide to purchase Cabo trip packages together! The riveting and wonderful performances from PigPen Theatre Co., Calvin Arsenia, Sam Wells, and Vanessa Severo! The surprise auction package of an exclusive dinner with Andrea Bocelli at his Italian estate! The truly magical setting of the Hotel Kansas City Tudor Room, where our guests were spangled in stunning stained glass light! It was an evening to remember.
Photos by Kyle Rivas
We hope our 2023 Gala creates many new, exciting memories — save the date for March 31, 2023 and join us!

2023 Gala Sponsors