SYTE2022!
is a free 4-week summer theatre arts program open to high school youth. Our summer company will create, rehearse and perform an original play on our mainstage.
Fun. New friends. Creativity. Sharing ideas. Celebrating expression.
Lunch and Snacks!
SYTE youth engage in an interactive rehearsal process packed full of theatre exercises and games, ensemble-building activities, movement, discussion and playwriting techniques designed to cultivate creative and life skills and tell a brand new story.
We collaborate with young actors and creative writers to build a play that is their own and explores and expresses their lives and perspectives. While the performance is important, what we learn in class and rehearsals is our priority.
"SYTE was the most magical experience of my life. Not a day goes by that I don't think about it." – SYTE Ensemble member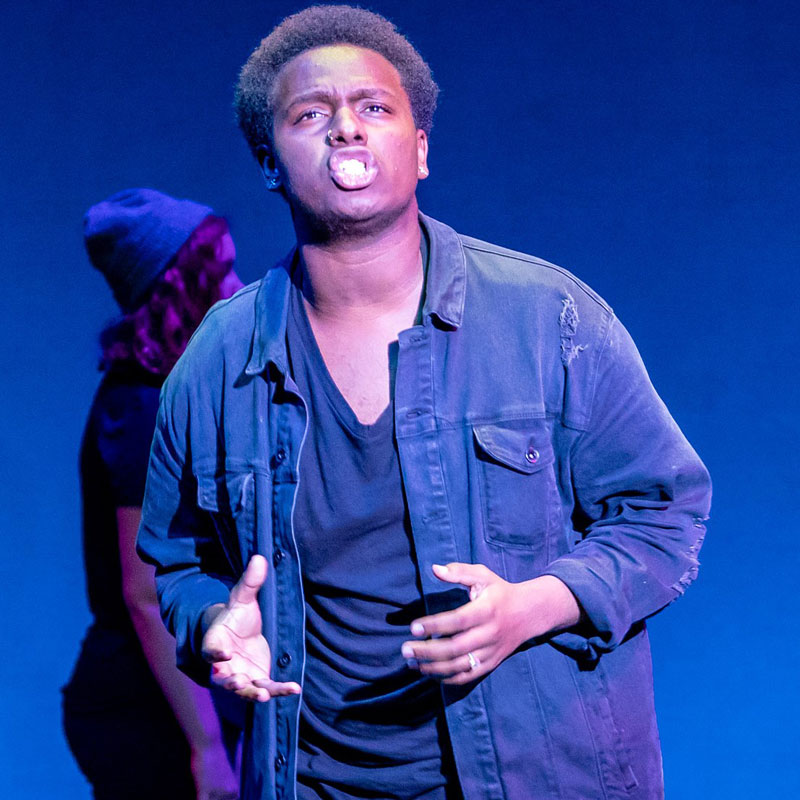 Who & What | While SYTE is a theatre-focused experience, we welcome high school-aged young adults of all skill levels, talents and backgrounds. We don't require tons of theatre experience—- only ideas, openness and enthusiasm to tell a story with each other. If you love to think, act, write, create and express and would like to have a fun, creative, and imaginative summer, we'd love to meet you. Eligibility includes rising 9th graders and just-graduated seniors.
Inclusion, diversity, kindness and respect are artistic superpowers in our ensemble. Empathy and sharing are gifts of theatre.
Where | Rehearsals will take place in Kansas City Repertory Theatre's rehearsal hall located on the UMKC campus, midtown KC. The performances will be held on our mainstage, the Spencer Theatre in the Olson Performing Arts Center on the UMKC campus.
When | Classes are held Monday through Friday, 10:00 a.m. to 4 p.m. The session will begin Tuesday, July 5 and continue through the final performances on July 29 and 30th.
Yum! Snacks and lunch are provided. We can also provide reimbursement for bus passes to travel to class.
"Every summer, our youth company ignite our stage and remind us of the value and meaning of individuality, creativity and expressing oneself. Thinking, talking, sharing, moving, experimenting, discovering, writing, shaping it into a whole piece and just simply having fun along the way. What they do and share is what it's all about." – Melinda McCrary, Director of Education and Community Programming
SYTE's mission is to empower self-expression, confidence, collaboration and the joy of creativity through the art of theatre with KC teens in a safe and supportive studio with professional actors as our teaching and mentoring team. Every young person involved is vital in helping to shape the experience.
How to apply
We create our summer company through auditions which primarily help us get to know you now before we begin. Please respond with your interest as soon as you can since we may need to consider social distancing in the size of the group.
Please email Melinda at mccrarym@kcrep.org for an application form and more details about your virtual audition. It's easy and helps you get to know us, too!

This is our 6th summer of welcoming youth from all over the KC area and we hope you will be one them!

Covid-19 Care and Caution for SYTE: Please know that we will work with the safety of everyone as our priority and will be following KCRep, city and UMKC safety guidelines.
Questions? More details? Please email KCRep's Education Director, Melinda at mccrarym@kcrep.org
Past Ensembles
Summer 2021
Are you listening?
Twelve young people gather for their tenth high school reunion. As they reacquaint, sparks fly as memories of deep hurts they shared as a group when not listened to by parents and teachers as well as those they caused to each other are visited in flashback. New identities are unfurled. Old wounds and secrets are spoken aloud and hilarities are recalled as they join forces again to understand a time when it seemed no one was listening or even cared.
As each of the former classmates makes a reunion toast, we learn of their struggle, then and now, to be heard— as they navigate a complex world while coming of age. With the power of confidence and the perspective of time on their side, can they find the unity they were always seeking and wanted the world to hear?
Summer 2020
Disconnected
Trusting the arts to be healing, joyful and resilient, our 4th annual Summer Youth Theatre Ensemble assembled in a Zoom studio in late June 2020 with 13 talented young adults from all over the city. In league with our terrific and innovative teaching team and undaunted by the challenges of a pandemic summer, they collaborated to devise, rehearse and perform their original play, Disconnected, on video.
What happens when 13 strangers find themselves trapped in a Zoom room together? It's meta within meta.
Summer 2019
At Home
A thoughtful original play, At Home examined family relationships.